Lab Equipment from A-Z
From standard articles to special devices – we supply a custom-made portfolio with a high degree of specialisation. Our range comprises more than 15,000 products and many of them are available at once. Thus, your order will be delivered quickly. If required, we even find quite specialised laboratory products for you.
Advisory Expertise
The distribution of laboratory products is our passion. We have been working in the laboratory specialised trade for more than 45 years and employ highly qualified experts. We provide comprehensive and targeted consulting and search for the best products for you worldwide. Benefit from our years of experience in import and distribution of laboratory products.
Distribution & Logistics
For us, on time delivery and timeliness are the main basis for a trustful and long-lasting cooperation. We attach great importance to fast and thorough processing of your inquiries. This is the only way to guarantee the smooth delivery of your ordered goods. If requested, we also take over the whole warehousing for you.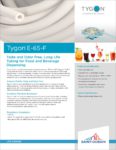 Saint-Gobain Tygon E-65-F
Taste abd Odor Free, Long Life Tubing for Food and Beverage Dispensing,
Laboratory Products & Individual Solutions
There is a huge range of laboratory products. But how can you find the product you are looking for? For example, a centrifuge which is space-saving and highly efficient at the same time. Or a hose which is suitable for a specific chemical. Just leave it to us!
The Kleinfeld product specialists know the market very well. They have many years of experience and know-how. As a result, we only sell laboratory products from which we are convinced ourselves. Additionally, we only recommend those products that actually help you with your specific question and offer optimum benefit for your daily work.
Our range comprises about 5,000 articles which are available on short call. Just visit and enjoy our Online Shop.